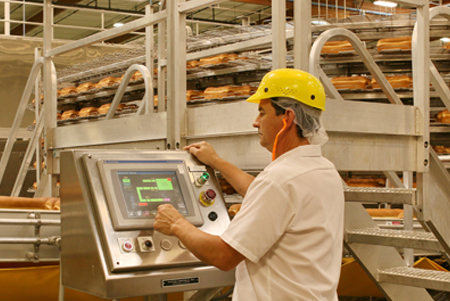 Engineering Careers
We believe every team member makes a difference. We look for positive, self-motivated, and talented individuals who enjoy working on a team to deliver the highest quality bakery foods and services. We want people who are genuinely passionate about work and eager to develop a long-term career.
If you are looking for a career opportunity that supports your professional growth and development, Flowers Foods and its affiliated companies could be just what you're looking for.
Join our Talent Community to receive updates about Engineering Opportunities matching your interests.
Results 1 – 14 of 14
Page 1 of 1
Search results for "". Page 1 of 1, Results 1 to 14
Title
City
State
Company
Date
Maintenance Engineer I

Tyler, TX, US

Feb 8, 2021

0.00 mi

Engineering

Flowers Baking Co. of Tyler, LLC

TX- Tyler

TX

Tyler-Maintenance-Engineer-I-TX-75701

Maintenance Engineer II

Houston, TX, US

Feb 9, 2021

0.00 mi

Engineering

Flowers Baking Co. of Houston, LLC

TX- Houston

TX

Houston-Maintenance-Engineer-II-TX-77001

Maintenance Engineer I

Houston, TX, US

Feb 11, 2021

0.00 mi

Engineering

Leeland Baking Co. LLC

TX- Houston

TX

Houston-Maintenance-Engineer-I-TX-77001

Engineering Supervisor

Philadelphia, PA, US

Feb 11, 2021

0.00 mi

Engineering

Tasty Baking Company

PA- Philadelphia

PA

Philadelphia-Engineering-Supervisor-PA-19019

Maintenance Technician

Philadelphia, PA, US

Mar 1, 2021

0.00 mi

Engineering

Tasty Baking Company

PA- Philadelphia

PA

Philadelphia-Maintenance-Technician-PA-19019

Engineering Supervisor

Lewiston, ME, US

Mar 2, 2021

0.00 mi

Engineering

Lepage Bakeries Park St, LLC

ME- Lewiston

ME

Lewiston-Engineering-Supervisor-ME-04240

Maintenance Engineer I

Lewiston, ME, US

Mar 2, 2021

0.00 mi

Engineering

Lepage Bakeries Cedar St, LLC

ME- Lewiston

ME

Lewiston-Maintenance-Engineer-I-ME-04240

Engineering Supervisor

Lenexa, KS, US

Feb 15, 2021

0.00 mi

Engineering

Flowers Baking Co. of Lenexa, LLC

KS- Lenexa

KS

Lenexa-Engineering-Supervisor-KS-66210

Maintenance Engineer

Suwanee, GA, US

Feb 16, 2021

0.00 mi

Engineering

Flo Bakery of Suwanee, LLC

GA - Suwanee

GA

Suwanee-Maintenance-Engineer-GA-30024

Maintenance Engineer I

Jacksonville, FL, US

Feb 3, 2021

0.00 mi

Engineering

Flowers Baking Co. of Jacksonville LLC

FL- Jacksonville

FL

Jacksonville-Maintenance-Engineer-I-FL-32099

Industrial Maintenance Technician

Bradenton, FL, US

Feb 17, 2021

0.00 mi

Engineering

Flowers Baking Co. of Bradenton, LLC

FL- Bradenton

FL

Bradenton-Industrial-Maintenance-Technician-FL-34201

Maintenance Engineer II - Overnights

Johnstown, CO, US

Feb 10, 2021

0.00 mi

Engineering

Canyon Bakehouse, LLC

CO- Johnstown

CO

Johnstown-Maintenance-Engineer-II-Overnights-CO-80534

Engineering Superintendent

Phoenix, AZ, US

Feb 18, 2021

0.00 mi

Engineering

Holsum Bakery, Inc

AZ- Phoenix

AZ

Phoenix-Engineering-Superintendent-AZ-85001

Engineering Supervisor

Phoenix, AZ, US

Mar 1, 2021

0.00 mi

Engineering

Holsum Bakery, Inc

AZ- Phoenix

AZ

Phoenix-Engineering-Supervisor-AZ-85001
Results 1 – 14 of 14
Page 1 of 1